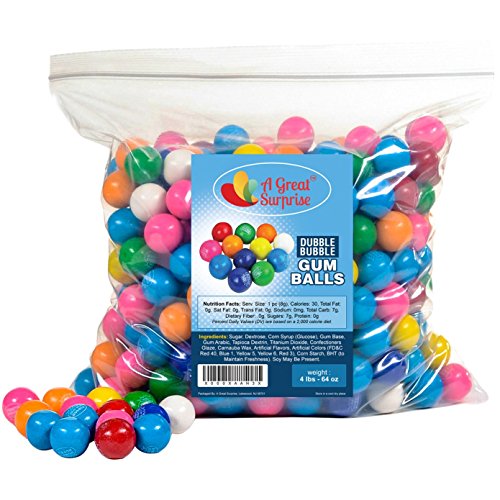 Dubble Bubble Assorted Flavor 1″ Gumballs, 4 LB Bulk Candy
These Dubble Bubble Gumballs are our most popular gumball variety. Each of the gumballs is the standard one inch size for a commercial gumball machine and comes printed with the Dubble Bubble Logo.
People all over recognize Dubble Bubble as the name brand in the gumball world and these gumballs are the ones that brand is built on.
The 8 flavors for these Dubble Bubble Gumballs are strawberry, pineapple, blueberry, lemon-lime, orange, cherry, banana, and grape.
Buy in bulk to save money. Approximately 40 pieces per pound. Includes 3 lb's. Resealable bag for easy storage.
Great candy that will be loved by kids of all ages (and adults too). Enjoy these sweet treats with many enticing flavors of the classic candy you crave.
Kosher. Items are repackaged in a facility that may contain milk, soy, peanuts, tree nuts, eggs, wheat and all other allergens.
$

19.99
buy now